City of Woodinville - Tourist District Roundabout Design and Construction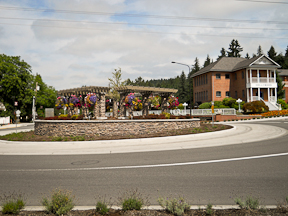 This roundabout project was designed to reduce rush-hour traffic congestion in the Tourist District and improve safety a very "green" way. Three roundabouts were constructed along State Route 202, from the south City boundary on Woodinville-Redmond road to the bridge over the Sammamish River on Northeast 145th Street. The largest is at the intersection of State Route 202 and Northeast 145th Street, with two smaller roundabouts on the south and west sides of the intersection.
Our engineers were part of the David Evans and Associates team and provided geotechnical design consultation for the roundabouts. We also worked with the Washington State Department of Transportation to use an economical pavement design for both the asphalt and concrete sections of the roundabouts.
This project was awarded a 2011 Engineering Excellence Local Gold Award for Exceeding Client/Owner Needs from the Washington State Chapter of the American Council of Engineering Companies (ACEC). As detailed on the City's website, the project was also one of six roundabout projects nationwide to receive special recognition at a recent national Transportation and Research Board (TRB) conference in Washington, D.C.
---
Services provided: Geotechnical Engineering; Pavement Design