Senior Geotechnical Engineer Wanted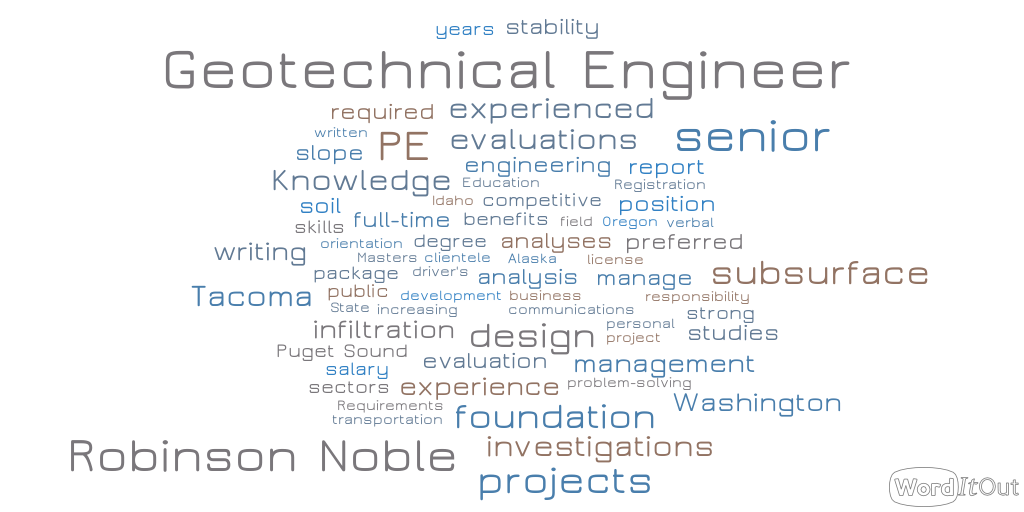 Robinson Noble is seeking an experienced geotechnical engineer to perform and manage geotechnical projects in our Tacoma office, as well as work with company management to expand our clientele in the south Puget Sound region. Duties will include geotechnical evaluation, analysis, design, and report writing for a wide-range of projects in both the private and public sectors. Knowledge of foundation analyses, subsurface soil investigations, slope stability evaluations, and infiltration studies are essential. This is a full-time position with a competitive salary and benefits package.
Requirements
Education: Bachelor's degree in engineering required; Master's degree in geotechnical engineering strongly preferred
Registration: Washington State PE required; PE in Oregon, Idaho, and/or Alaska preferred
Experience: 5 to 10 years geotechnical engineering experience of increasing responsibility; minimum 3 years project management experience; business development experience preferred
Other:
a valid driver's license and personal transportation required
strong field orientation and problem-solving skills
strong verbal and written communications skills
To Apply
Submit a resume and cover letter via email to recruiting (at) robinson-noble.com stating the position title in the subject field. Please include the following:
a summary of past experience, highlighting experience relating to the position as described above
list of education and professional registrations (with registration number)
salary history
two writing samples – preferably one should be technical in nature and the other should convey technical or regulatory information to a non-technical person; writing samples can be attached to the email in Word or PDF formats
Robinson Noble is an equal opportunity employer and it is our policy that employees and applicants will not be subjected to unlawful discrimination or harassment based on race, color, religion, sex, age, national origin, veteran's status, marital status, physical or mental disability, sexual orientation or any other basis prohibited by applicable state, federal or local laws.
Word cloud by worditout.com
John Hildenbrand Named Principal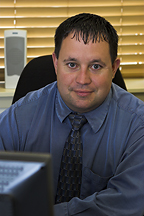 John Hildenbrand has been made a Principal at Robinson Noble.
John joined Robinson Noble in 2003. He manages our Environmental Services Division, serves as our Health and Safety Officer, and is actively involved in several ASTM committees. John has over 24 years of environmental experience, including management of drinking water, waste water, solid waste, hazardous materials, food and community safety, and emergency and disaster response programs. While working at the Tacoma-Pierce County Health Department, he implemented the South Tacoma Groundwater Protection District. John has also developed nationally-recognized hazardous materials training curricula and authored articles on emergency response.
We would like to congratulate John and wish him every success in his new position.
In Memory of Herman Dillon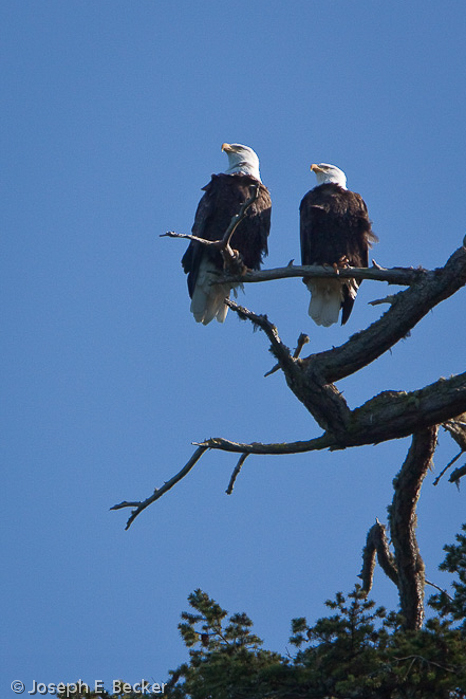 Robinson Noble extends our deep sympathies the Puyallup Tribe of Indians at the passing of Mr. Herman Dillon. Robinson Noble has been providing the Puyallup Tribe of Indians with environmental and hydrogeologic services for more than 25 years. Mr. Dillon served on the Puyallup Tribal Council for more than two decades. He helped lead the Tribe's journey from poverty to prosperity and will be missed by all who knew him.
In honor of Mr. Dillon, we have made a donation in his memory to the Puyallup Tribal Health Authority. The Health Authority provides physical and spiritual care for the Puyallup Tribal Community. It was the first ambulatory health clinic, in 1976, to enter into a 638 "self-determination" contract with the Indian Health Service. Mr. Dillon, always passionate about the health of his people, was instrumental in establishing the Health Authority.
Bracket Busting Finally Over – Huskies Win Championship!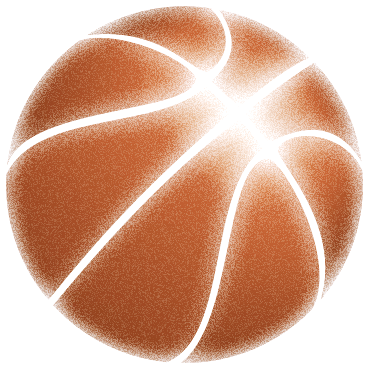 Congratulations to the U Conn Huskies and to the winners of our fourth annual NCAA Basketball Tournament Contest!
The final contest standings are posted on our blog.
Thanks again to the following firms that joined Robinson Noble as sponsors of this year's contest:
Engineered Glass Beads in Well Construction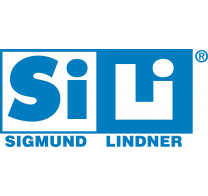 [Update: Thank you to everyone that made this seminar a success! To get a copy of Mr. Reinhard's presentation and read our summary of the discussion, visit our WordPress site.]
Every once in a while, a technological innovation comes along with the potential to fundamentally improve the way we do things. One such step forward for the groundwater industry was the development of the stainless steel well screen. These screens were stronger and more durable than their predecessors, providing greater flexibility in well design, development, and maintenance. However, relatively little attention has been focused on improving another common component of the well/aquifer interface-filter-pack material. One emerging option for uniform, clean, well rounded pack material with a low solubility is the use of engineered glass beads.
Robinson Noble is sponsoring a seminar featuring Reinhard Klaus of Sigmund Lindner GmbH, a German manufacturer of precision glass beads known as SiLi beads. Mr. Klaus will be presenting research regarding the use of glass beads as a pack medium in water well design. This presentation and seminar is intended to:
introduce the groundwater community to the possibility of using glass bead technology in the design of water wells;
provide a forum for open discussion of the concept from the perspective of well owners, drillers, well design professionals, and regulators;
and discuss what it will take to make it possible to try this technology and, if proved, how to make it a reliable tool in well design in Washington State
(Note: Drillers attending this presentation can receive 1.0 CEU from the Department of Ecology.)
Science and Election 2012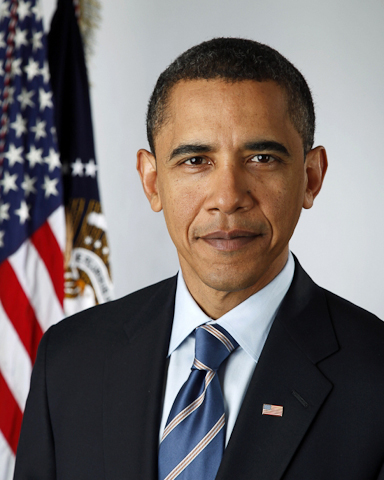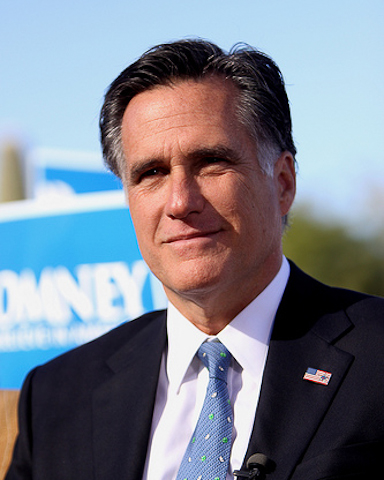 In 2008, Joe Becker wrote an article for our newsletter contrasting the two Presidential candidates' positions on science with an emphasis on water and environmental clean-up issues. He has reprised that article with a review of how President Obama and Mitt Romney address these issues. As with the previous article, his primary sources are the candidates' websites and the Science Debate website.
Click here to read this article on our blog.
Northwest Center Clothing Drive


Our thanks to everyone that contributed to the Robinson Noble clothing drive benefiting Northwest Center, a Seattle-based non-profit helping kids and adults with disabilities since 1965. In just a few short days, our Tacoma and Woodinville offices gathered 230 pounds of donated clothing, enough to provide for roughly nine hours of one-on-one job coaching!

Additional information about Northwest Center can be found in this informational brochure and on their website.
NGWA Recognizes Robinson Noble Donation to Museum Collection
The National Ground Water Association's (NGWA) Research and Education Foundation maintains a collection of historical scientific equipment related to the groundwater industry. In their 2011 Annual Report, NGWA recognized Robinson Noble's donation of a circa. 1969 Stevens Type F water level recorder to the museum collection. The museum's collection is hosted online at the Virtual Museum of Ground Water History; the Stevens Type F is located in the "Focus On the Science" wing.
This water level recorder pre-dated the solid-state water level sensors and dataloggers that are widely available today. The unit operated by means of a float and a weight suspended over a pulley via a beaded wire. The beads on the wire meshed with indentations on the pulley such that when water levels changed, the float moved up and down causing the pulley and attached drum to rotate. A pen traced a record of the water level change on chart paper affixed to the drum. The pen moved laterally across the chart paper by means of a clock drive, generating a real-time hydrograph. This model has a wind-up, gear-driven clock drive, but newer models are battery-powered and use quartz clock movements or solid-state circuitry.