West Water Development, Inc. - Salmon Bay Marine Center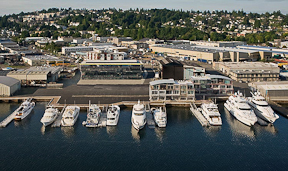 Salmon Bay Marine Center is the largest super yacht facility on the West Coast with 13 side-by-side dock slips on the Lake Washington Federal Ship Canal in Seattle, Washington. The site was previously the home of the Marco Shipyard and has been redeveloped extensively. The five marine services buildings planned for the site included an office building, a warehouse, and a marine supply building. Complicating site development was a large diameter sewer pipe crossing Salmon Bay and traversing the site in close proximity to two of the new buildings.
Our engineers completed subsurface explorations on the property and determined that the site is underlain by loose fill, placed many years ago above the native silt soils. The subsurface evaluation also documented slight contamination of the subsurface soils resulting from past industrial activities. After conferring with the owner and structural engineer to determine the optimal foundation system for the site structures, auger-cast piles were selected. We analyzed the piles' capacity to resist lateral seismic loading and calculated the deflections that would result. Similarly, we determined the required pipe embedment, lateral load capacity, and the resulting lateral deflection for the steel pipe piles providing lateral support to the new offshore floating piers. Our engineers also provided seismic consultation concerning the existing bulkhead and inspection services during pile installation and project earthwork.
---
Services provided: Geotechnical Engineering, Subsurface Investigations, Foundation Design, Seismic Evaluation, Construction Inspection